It's time to get the most out of your banking experience! 
We offer tools and services to help make your banking experience seamless. Whether you are ready to start banking on the go, looking for ways to better save your change, or have access to financial calculators to help you plan ahead, we have products that will help you! 
Elevate your banking experience.
Here at OakStar, we're never okay with "just okay." That's why we always strive to provide you with the best and most up-to-date technology and resources.
Whether you are checking your balances, transferring funds, or depositing checks, our online tools help make it happen from anywhere. Have questions? Live chat with an OSB team member—from wherever life takes you—and let us come to you. 
Tap, tap, tap, DONE. 
Signing up for eStatements is quick, convenient, and good for the environment. Enroll through OSB online or mobile banking in a few easy steps:
Tap the account you want to enroll
Tap

 

Statements
Tap

 

Sign Up/Changes
Follow the prompts to sign up!
Enjoy the features of your new debit card.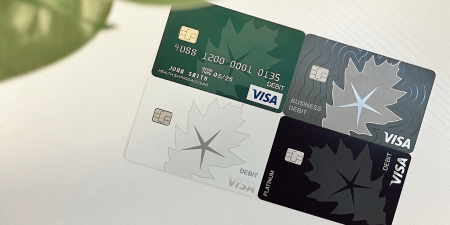 Your new OakStar Bank debit card should mail to you in 5-7 business days after ordering. Take advantage of these features:
Contactless payment capability

Mobile wallet integration (Apple Pay, Samsung Pay, Google Pay)

Card management tools

Ability to turn your debit card on or off through online/mobile banking
A savings option that just makes cents! 
Remember when you used to take all of your extra pocket change and throw it into your piggy bank just so you could save up a little extra money for that vacation you've been wanting to take? Well, now you can do that with your OakStar account, and the savings just happen automatically! 
Switching banks to OakStar has never been easier.
When you're ready to switch your banking to OakStar, we have tools that will help simplify the process. Take a look at the steps below on how to best switch your accounts.
1.
Find out what it means to experience the OakStar difference.
Head to your nearest OakStar Bank
location
, give us a call at 417.447.0535, or
open an account online
to get started with one of our account options, such as checking accounts, savings accounts, and more.
2. Make the switch! Request a direct deposit form through chat via your online/mobile banking, by talking to an OakStar Bank team member at your local location or by calling 417.447.0535. Our team will make sure you're set up to switch over your direct deposits to your OakStar account. 
Bonus tip: You're not going to want to forget these! Here are some examples of direct deposits you might need to switch: payroll, insurance, investments, retirement, social security, etc.
Bonus tip:

Don't miss a payment: Here are some examples of automatic withdrawals you might need to switch: mortgage/rent, utilities, Wi-Fi, Netflix, Hulu, Spotify, gym membership, credit cards, etc.
3. Close out your old account. Let your old bank know that you're ready to move on. Use the information below to notify your old bank that you are switching to OakStar Bank. 
Bonus tip: It's smart to keep your old bank account open for a few weeks to ensure that you successfully moved over all incoming deposits and outgoing payments.
Information to give to your old bank:


Address of your nearest OakStar Bank location (Please use 1020 East Battlefield Road, Springfield, MO 65807 if you do not have an OakStar location near you)
Phone number of your nearest OakStar Bank location (Please use 417.447.0535 if you do not have an OakStar location near you)
Your OakStar Bank account number
OakStar's routing number: 086519159

4. Take advantage of all that OakStar has to offer!
Check out the tools and services listed on this page for resources to better your banking experience. Take a look around the OakStar website to learn about
checking
and
savings
options,
loan products
, and more.
Ready to start planning ahead? 
Use our calculators to stay on top of your finances!